INSTRUCTIONS FOR ADVENT 2019
"But the angel said to them, 'Do not be afraid. I bring you good news that will cause great joy for all the people." Luke 2:10
At the center of the angel's good news – the good news of Christmas – are hope, peace, joy and love. This year during Advent, we encourage everyone to slow down and consider the Christmas story.
ADVENT DEVOTIONAL - YOUVERSION BIBLE APP
This year, we are using an Advent Devotional Plan* in the "YouVersion" Bible App. You'll need to download the "YouVersion" Bible App on your mobile device (or click the link on your desktop) to connect with everyone else at BRV throughout Advent.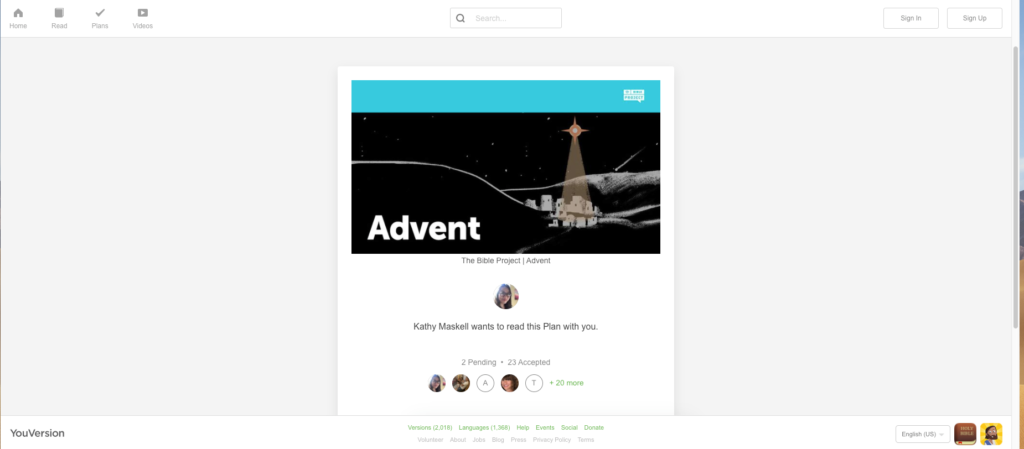 Click here: https://www.bible.com/reading-plans/13255
The devotional says "4 Days," but for us, each Day = 1 week. So, we'll use "Day 1" as Week 1, "Day 2" as Week 2, etc.
So, on Sunday, December 1, you'd open the Advent Reading Plan and begin with the first Scripture reading of "Day 1." On Monday, Dec. 2, you'd read the second Scripture reading of "Day 1." And so on, and so on.
Want to see it all mapped out? See the attached reading plan.
Every week begins with a video devotional. Watch that first, and then reflect on the daily Scripture reading.
You are encouraged to engage in shared life this advent with the following devotional plan and conversations with others in small groups or gatherings of three people, which we are calling triads.

Watch Week 1(Day 1 in Advent Plan) Devotional Video: PEACE
Day 1 Isaiah 9:5-6
Day 2 John 14:27
Day 3 Romans 5:1-2
Day 4 Ephesians 2:14-15 
Day 5 Colossians 1:19-20 
Day 6 Isaiah 8:177
Day 7 Psalms 130:5-7
Watch Week 2 Devotional Video (Day 2 in Advent plan): HOPE
Day 8 Psalms 39:7
Day 9 1 Peter 1:3-4
Day 10 Psalms 105:43
Day 11 Isaiah 51:11
Day 12 Luke 2:10
Day 13 Luke 10:21
Day 14 Matthew 5:12
Watch Week 3 Devotional Video (Day 3 in Advent plan): JOY
Day 15 Philippians 1:25
Day 16 Philippians 3:1
Day 17 2 Corinthians 6:10
Day 18 Luke 6:31
Day 19 Mark 12:31
Day 20 Deuteronomy 6:5
Day 21 Leviticus 19:18
Watch Week 4 Devotional Video (Day 4 in Advent plan): LOVE
Day 22 Romans 5:8
Day 23 1 John 4:9 
Day 24 1 John 4:11
Blue Route Vineyard's Advent Reading Plan for Advent Devotional in YouVersion App
SHARED LIFE: Triad Chats
Experiencing shared life in the smaller context of triads gives us an opportunity to flex the important muscles of following Jesus alongside others. Triads could include people within your current small group, members of your family, or co-workers or friends. Meet together in person, on the phone or online for about 30 – 45 minutes each week to discuss the meaning of Christmas with others (ideally groups of 3 people).The following are some suggestions for how to get your conversation started. You could also try the instructions for small group conversations if you prefer.
Some "pro-tips": Share as much as you are comfortable. Don't forget to have fun, and spend time getting to know one another. Listen actively. Begin in prayer by inviting the Holy Spirit into your speaking and your listening. If some of your triad are not yet believers, seekers, or are new to faith, be mindful that you explain your thoughts without too much "Christian jargon." Set some ground rules: tell folks your sharing is confidential & you won't give advice without being asked first.
Sample chat prompts:
Are you slowing down this Advent? If so, what specifically are you doing to slow down? How's it going? What are the highs and lows of slowing down for you?
Where are you seeing God at work in your life this week? Are you being challenged, re-directed, inspired, encouraged?
How is God's voice in scripture directing you? What have you heard the Holy Spirit saying?
How is God speak to you this week about hope, peace, joy or love?
If there something you would like us to check-in with you about next week? Is there a commitment or a plan to which you'd like us to help hold you accountable?
What's something that you want to change or need help with? Something you'd want God's help with? Can we pray together about that?
SHARED LIFE: Small Groups
1)  If you're gathering in your small group, watch that week's devotional video together first.
2)  Choose the passage of Scripture from the Bible Project Advent series that matches the day your meeting.
3)  Reflect and discuss with the group. Try using the following format from The Good and Beautiful Community, by James A. Smith.
The Scripture will be read three times. Before each reading a question will be shared for us to consider as we listen to the Scripture. After a few minutes of silence our insights to the questions will be discussed. Feel free to add your own insights to the sharing of others or to ask others to say more based on what they share.
Question #1:
Ask the group: "What word or phrase particularly speaks to you?"
Read passage. Give the group 1-2 minutes of silence to consider and reflect on the word or phrase that spoke to them.
Then say: "Now that you've had a few minutes to chew on this passage, what word or phrase spoke to you?" Feel free to contribute even if your word or phrase has been spoken.
Once everyone has had a chance to say their word or phrase, invite the group back into a time of silence.
Question #2:
Ask the group: "What in today's world does this passage of Scripture address?
Read passage
Give the group 2-3 minutes of silence to consider their answer to the question, then invite everyone to share. Again, encourage the group to add their thoughts and insights to the ideas of others, and let people know that their questions can be just as valuable as their answers even though there may not be immediate answers.
Once everyone has had an opportunity to contribute their thoughts, invite the group back into a time of silence.
Question #3:
Ask the group: "To what does this passage call me? To what does it call the groups to which I belong?
Read passage
Again, give the group 2-3 minutes of silence to consider their own answers to these questions, then invite everyone to discuss their thoughts.
Once everyone has had a chance to contribute, invite the group back into a moment of silence and end that time with either a prayer for courage to be responsive to God's invitation or simply say "Amen."