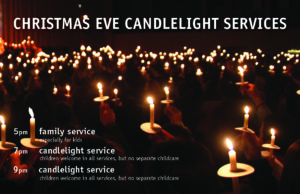 Christmas is fast approaching and in order to plan your schedules we are excited to let you know about the 3 one-hour candlelight services that we will be holding on Monday, December 24. 
5pm – Family service
7pm and 9pm – Candlelight service
If you are a family with children, the Family Service is designed for you, but children are welcomed at all services. There will not be kids church for any of the services. Be sure to invite a friend of family member.